Fallout: Wasteland Warfare Tabletop Miniatures Wargame
Wargaming In the Wasteland!
In Fallout: Wasteland Warfare, players build their own crew from a wide range of factions, allies and iconic characters from the Fallout series, and play in apocalyptic games of 3 – 30 high quality 32mm scale resin miniatures through a huge variety of iconic scenery and settlement buildings, from the Red Rocket to Sanctuary Hills, Nuka-Cola vending machines and wrecked cars. Pick units or characters to be Heroic giving them access to V.A.T.S bonuses and then select a Leader who can gain Perks and other abilities to support your crew. Develop your settlements buildings, defenses and resources which impacts your crew's army list and abilities in the wasteland. The game uses a customizable solo-play AI deck to control enemies that play to their strengths and replicate a faction's tactics while attempting a narrative mission or straight caps based battle. Play through a solo campaign or set up AI forces as a third party in your player vs player or co-op games.
Miniatures are unpainted & may require assembly
Showing 1–12 of 27 results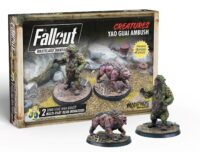 Out of stock