Valeria: Card Kingdoms
A fast-paced card and dice game that will have you and your friends slaying monsters, recruiting citizens, and expanding your domain
Valeria: Card Kingdoms is a tableau-building game for 1-5 players and will feel familiar to deck-building fans. The cards you buy can work for you on your turn and on all the other player turns, as well. On your turn, roll two dice and activate citizen cards with the result of each individual die and the sum of both dice. All players harvest resources at the same time. After you take your two actions, pass the dice. The player with the most victory points at the end, wins the game.
SECOND EDITION INFO:
This new edition of the Valeria: Card Kingdoms base game will have a lower MSRP than the original so that more gamers can enter the amazing game universe we launched back in 2015. It will have a new system of tracker boards, tokens, and +10 markers to count resources, and the box's plastic insert will have a special well to store the track boards. VCK2E will also include a new set of monster-based event cards that were not part of the original game components.
Showing all 10 results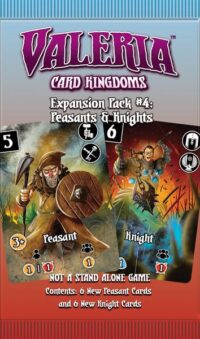 Out of stock