Fairytale Gloom at a Glance
Give your fairytale Characters an unhappily-ever-after while inflicting happy endings on your opponents.
Brings fairytale brutality — full of child-eating wolves, witches with grudges, and evil stepsisters — to the world of Gloom.
A standalone card game that is also compatible with Gloom second edition and its expansions.
Lost in the Woods: What is Fairytale Gloom?
Let's face it: fairytales are awful.
Witches lure children with houses made of candy, ogres look for human-sized snacks, and poisoned apples lurk around every corner. It's exactly the kind of world that's made for Gloom — the game where misery and sadness earn you points, and happiness will cost you the game. Together, you and your fellow players will weave a tale of princesses who die in dance-offs and brave boys who become beasts.
Fairytale Gloom can be played alone or combined with the Gloom second edition core game and any of its expansions.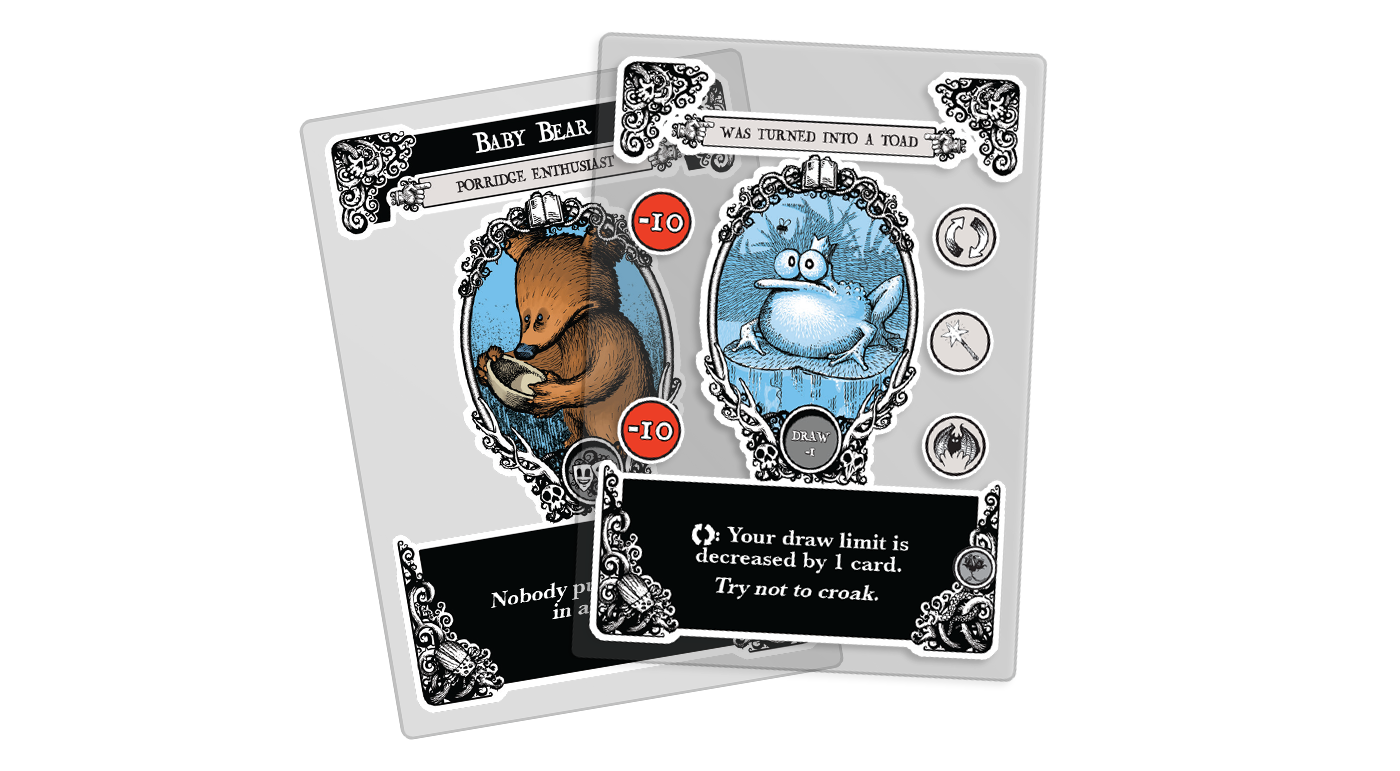 Tragic Tall Tales: Gameplay Basics
In Fairytale Gloom, each player selects their own fairytale Characters, placing Modifier cards on them to make them miserable, and on other players' cards to make them horribly happy. As you play, tell the tale of exactly how it came to be that the prince was mocked by a mirror and turned into a toad.
Storytelling is half the fun in Fairytale Gloom! When your Characters have reached the heights of misery, kill them off with an unhappy ending and lock in your points.
Like Gloom second edition, Fairytale Gloom features unique transparent cards that stack atop each other to hide and reveal the Self-Worth scores from the cards below. The easy scoring and tongue-in-cheek fairytale art are guaranteed to make players tragically happy.
The game ends when all of your Characters have shuffled off this mortal coil. The winner is the player whose deceased fairytale heroes and heroines are the most unhappy-ever-after.
UPC Code:9781589781580