Gloomier at a Glance
Return to Gloom's original dark Victorian setting in Gloomier: A Night at Hemlock Hall.

Gloomier builds on the Wellington-Smythe family, hosting a gruesome gathering at Hemlock Hall.
Clear story prompts encourage players' own terrible tales.
Gloomier adds 14 new Guests and 6 new Stories — more of the best of Gloom!
Horrible Humor: The World of Gloomier
Misery and mysteries abound at Hemlock Hall, the imposing estate of Lord Wellington-Smythe and his eccentric family of misfits. When you're invited inside for an evening's entertainment, what could possibly go wrong? Will you Cuddle with Cats or Thwart a Thief? Will you Brawl Over Brandy or Fall Prey to the Plague? At Hemlock Hall, awful amusements become deadly diversions with the flip of a card.

Gloomier: A Night at Hemlock Hall is a darkly humorous stand-alone competitive storytelling card game for 2-4 players. To win, you make your characters suffer the greatest tragedies possible before passing on to the well-deserved respite of death. The player with the most negative score wins. And in Gloomier, the winner gets the final word: Who WAS the murderer? How DID the heist end? You decide!
Gloomier features transparent plastic cards, allowing a character's score — and story — to evolve as cards are stacked on top of each other. You don't need prior experience to play Gloomier, but Gloom fans will find that Gloomier expands the storytelling aspect of Gloom with specially designed story prompts. And this full standalone game includes 6 new Stories and 14 new Guests that can be used with any edition of Gloom! So come to Hemlock Hall, and see what delightful disaster awaits!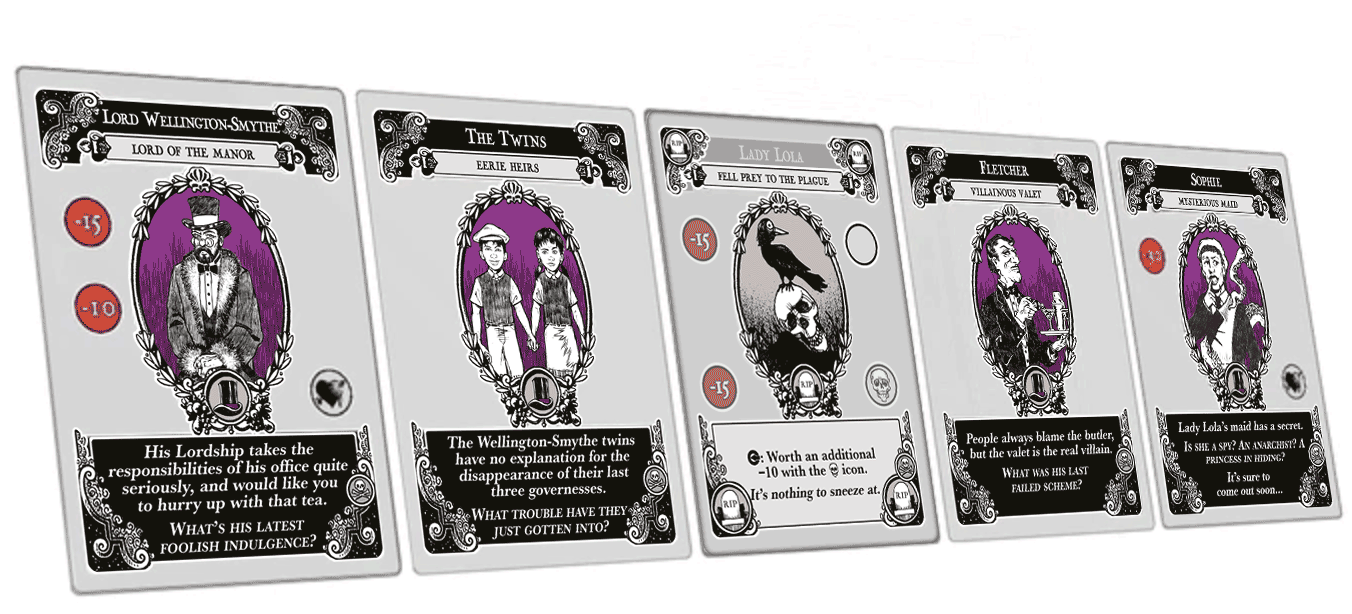 Piteous Play: Gameplay Basics
More of the Best of Gloom: A Night at Hemlock Hall uses the classic Gloom setting, but integrates the best of the mechanics developed in the game's expansions. Then it gives you even more of them! Guests were originally part of the Unwelcome Guests expansion, which provided five Guests; Gloomier has more than a dozen. It likewise includes half a dozen Stories, which were introduced in Unquiet Dead. So it's not just more cards, it's more of the best of Gloom.
Focus on Storytelling: At the same time, Gloomier focuses on easier and more integrated storytelling.  Gloomier: A Night at Hemlock Hall tells the tale of the most dangerous dinner party that's ever been hosted at Hemlock Hall. The story prompts help you delve deep into the life (and death) stories of your characters, with immediate hooks to get you thinking out loud. Gloomier: A Night at Hemlock Hall brings focused storytelling to Gloom, making it even more fun for experienced and beginning players alike.
Contents
110 transparent plastic cards (including 14 new Guests, 6 Story cards, a new cast of characters, and a variety of new Modifier and Untimely Death cards to bolster your tragic tales)
A 12-page, totally redesigned rulebook
An attractive tuckbox
UPC 700040013564