COLLECTOR BOOSTER CONTENTS
The Kaldheim Collector Booster features 11 traditional foil cards (plus a double-sided foil token in addition), 5 special alternate-frame cards, and a combination of 5 rares/mythic rares. While we'll have even more details on January 7, let's take a closer look at the breakdown of Collector Booster card slots in addition to the 5 foil commons and 2 foil uncommons found inside.
1 Rare Saga – A thematic Kaldheim rare that isn't found in Draft Boosters, or one of the Kaldheim Commander Deck rares or mythic rares—see the section on Sagas above for more about this slot.
1 Foil card – It's not a mystery! Each Collector Booster has a slot for a foil card that we're not ready to share more about today. You can look forward to learning about it on January 7.
1 Extended-art card – One of 36 extended-art rares or 4 extended-art mythic rares. Each rare shows up twice as often as each mythic rare.
1 Foil rare or mythic rare – This slot features the 64 rares and 20 mythic rares that you can find in the main set of Kaldheim (so you won't find Commander cards or the thematic Kaldheim rare cards here).
1 Non-foil and 1 foil showcase uncommon – These can be 12 different legendary cards, each featuring the showcase Viking frame.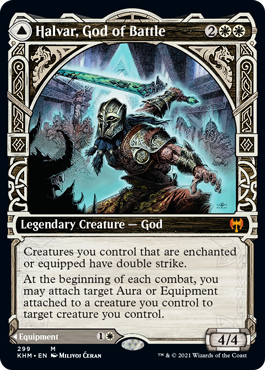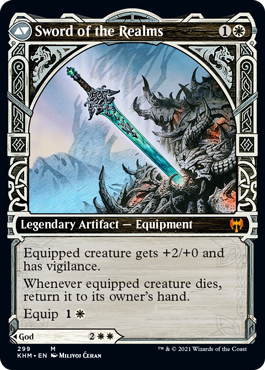 1 Rare or mythic rare with a showcase or borderless frame and alternate art – In addition to having a cool new frame, each showcase and borderless card shows off a new piece of art that is custom designed to show off Kaldheim and pair with the showcase/borderless styles. There are 18 rares and 16 mythic rares. Two of the mythic rares in Kaldheim have both a showcase and a second Booster Fun variant frame. These cards' two treatments, combined, show up as frequently as other mythic rares in the set.
1 Foil rare or mythic rare with a showcase, borderless, or extended-art frame – The best way to finish off your Collector Booster experience is with the best of the best. Here you will find a Booster Fun treatment that captures all the awesomeness of Kaldheim in traditional foil! There are 54 rares and 20 mythic rares available in this slot. One of these cards has a showcase treatment that I can't show you just yet!