DRAFT BOOSTERS
Draft Boosters are pretty much the same as always: the absolute best way to play Limited. Mythic rares drop a bit more frequently this time around, but aside from that, you're getting what you're used to: 10 commons, 3 uncommons, 1 rare or mythic rare, 1 full-art basic land, and 1 token/ad card. Around a third of the time, one of the commons will be replaced by a foil of any rarity. It's also possible that you get a card in a showcase frame, an exciting alternate version of a normal Zendikar Rising card.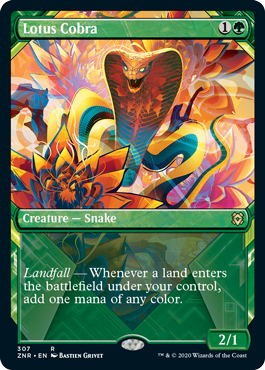 Just like Core Set 2021, you can find borderless cards here, too!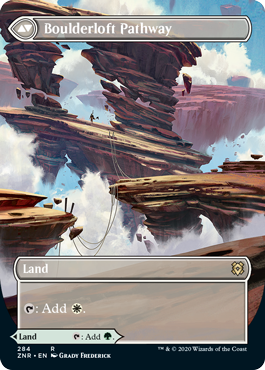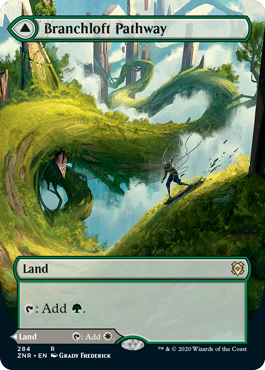 Draft Boosters are available on their own or in a display of 36 packs. Each display contains one Expedition Box Topper and is eligible for one Buy-a-Box Promo (while supplies last). Keep scrolling for info on those.
——————————————————–
Okay! Let's talk about the exciting bonuses that come with booster displays of Set, Draft, and Collector Boosters.
EXPEDITION BOX TOPPERS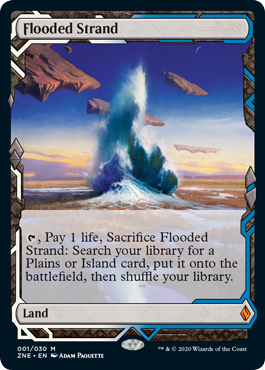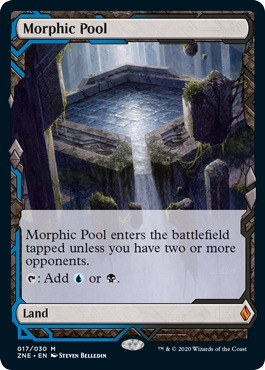 Each Expedition Box Topper contains 1 of 30 of the most exciting lands from the history of Magic—and yes, you can find all ten fetch lands right here. While the box toppers are not foil, they do have a special high-gloss treatment. They each have brand-new art laid out in a gorgeous Expedition frame and their own expansion symbol—these are not Standard-legal cards. You get one of these glossy box toppers in a Set or Draft display, and two in a Collector display. (If you're looking for them in foil, you'll have to check inside Collector Boosters.)
BUY-A-BOX PROMO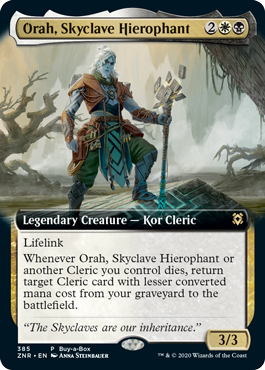 If you buy a booster display from your WPN store, you'll get an alternate-art Orah, Skyclave Hierophant (while supplies last). Here's the first part of his bio:
Orah is a kor cleric who is deeply connected to ancient kor civilizations. He lived his life in awe of the past, learning what he could from the various ruins. Over time, he became quite the master cleric, among the best on Zendikar. Ironically, the past took everything away from him. When the Eldrazi returned, his family was lost in the struggle.
UPC 630509905904