Looking In Long Boxes: Jeff Lemire's Trillium
As a heavily based visual medium, it stands to reason that the biggest names in comics are artists. Collectors and fans alike become drawn to personal aesthetically pleasing artwork as a basis for trying new series or following their favourite creators.
Comic giants such as Golden and Silver Age masters Jack Kirby (Thor) and Steve Ditko (Spider-Man), or modern masters Frank Miller (Sin City), Jim Lee (WildC.A.T.S.), and Mike Magnolia (Hellboy) have created the iconic images that have influenced popular culture, spawned successful movies, and changed how consumers interpret themselves through the roles of popular heroes throughout history.
In current comic culture, there is a shift towards celebrating comic writers with entire fan bases following a writer's body of work despite the artist involved. True, all the examples in the previous paragraph were writers and illustrators which, can be argued, is easier to interpret the pictures in your head when you can actually draw them.
A powerful comic script is more important than ever with comic stories being adapted for movies, television, animated series, and the occasional bemoaned musical. Writers including Paul Dini (Batman the Animated Series), Gail Simone (Plastic Man), Tom King (Mister Miracle), Jody Houser (Faith) and Kelly Thompson (Hawkeye) have become the new comic celebrities in a time where readers are looking for increased innovation, inclusion, and perspective.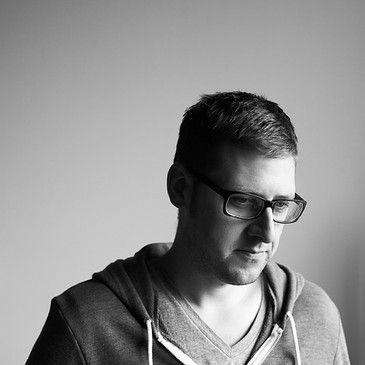 Enter Jeff Lemire
Lemire is the Toronto based, multiple Eisner award nominated, Schuster Award winning, New York Times Bestselling author of acclaimed graphic novels including SWEET TOOTH, Essex County (which was named one of five Essential Canadian Novels of the Decade in 2010), and the graphic novel / music collaboration with the late Gordon Downie Secret Path.*
Besides his original projects, he has written for DC titles including Frankenstein: Agent of S.H.A.D.E. and the wonderful, The Terrifics. Lemire has created a fan base in both the mainstream and indie comic scenes will retaining his distinctive narrative voice and art style.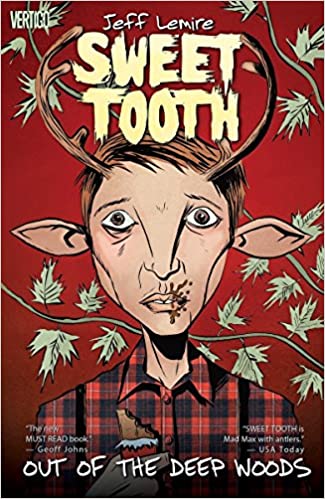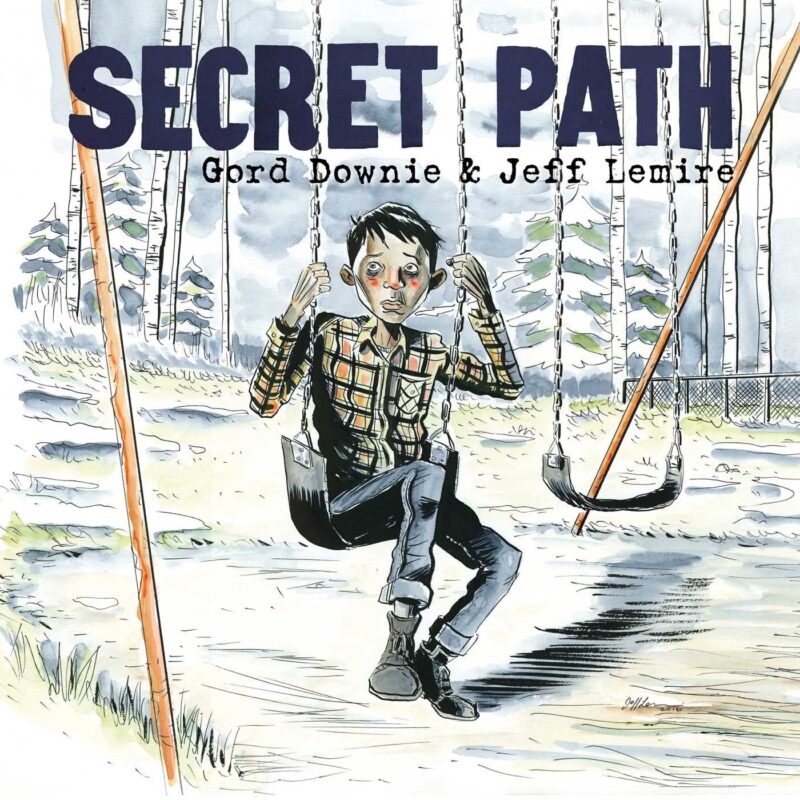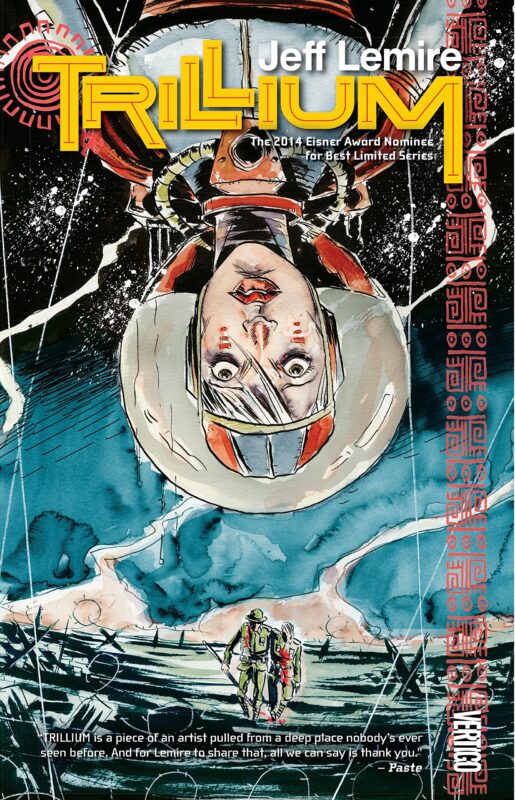 Trillium, a 2014 Eisner award nominee for Best Limited Series, is a sci-fi love story following Nika Tensmith, a scientist in the year 3797, and William Pike, a soldier in the year 1921, who meet outside an Incan temple with the only common word between them is the mysterious flower, growing in abundance around the temple, "Trillium."
Oh, and the future four thousand surviving Earthlings on the planet Atabithi are about to be destroyed by The Caul, a sentient virus destroying everything in its wake, unless they can unlock a possible vaccine using Trillium.
As his first attempt at world building, Lemire referred to Trillium as "Lo-fi Sci-fi […] trying to tell a really small, really human love story, but set up against a big cosmic back drop." Lemire accomplished exactly that. With Trillium there is the highest stakes, the last surviving Earthlings running from space colony to space colony only to be continually hunted by The Caul, while focusing the action through two main characters as they attempt to navigate a mysterious connection between them despite being separated by centuires. Besides the linear plot point of defeating the "Big Bad", Nika and William are transported between times and realities, leaving our main characters and readers interpreting the boundaries of personal experience, memories, and the interconnections of the universe.
Add to all of the above a distinct spoken and written language for the Atabithians (with a letter swap glossary for readers to translate) and the distinctive style of using simultaneous upside down and right side up panels, Trillium is an expansive, heat-felt read, deftly intertwining complex plot points with extended dialogue, moments of silence and Lemire's distinctive art style.
Trillium is true romantic art house sci-fi not to be missed! Jeff Lemire's Trillium is available as a trade paper back through DC's Vertigo Comics. Also, try looking in long boxes for Trillium single issues at your favourite comic shop.
(Gratuitous plug: if you enjoy graphic novel / music collaborations, be sure to check out Ultimate Power Duo's concept album, with 90 page graphic novel, Ultimate Power Duo Presents The Adventures of Space Joe: Ad Astra. Available now!)
Written by Brennan, aka The Riz, aka Major Party, who holds down the fort every New Comic Book Day aka Wednesdays at Amazing Stories.