It's the Happiest Day of the Year!
AND it's our 30th Anniversary. This year FCBD will be bigger and better than ever. We will have free comics, prizes, giveaways, and so much fun!
This year we are proud to host an Artists Alley of local creators featuring Ryan Howe, Jeff Burton, Rhett Stevenson, Brayden Martens, James Zintel, Audra Balion, Nathen Wahl, and Colin Work. Tom Grummett will be here from 12 – 3pm doing small sketches with all proceeds going to Foundations! and now Riley Rossmo will be joining us from 2pm til 4pm!
You do not have to make a purchase to get FREE comics on Saturday. Anyone is entitled to 5 comics. Or, make a purchase instore for $10 or more and show your receipt and pick out 10 titles!
We will have special appearances by Zoltar the Fortune Teller, Cosplayers, and Totally Rad will be bringing their Tiny Skateboard Park and demonstrating fingerboarding! and Shaw and PunchTV will be there to capture all the excitement.
We are also proud to host Foundations Saskatoon (formerly READ Saskatoon) and we'll have some extra special fundraising initiatives to help out their mission. Stop by the "Fish Pond", and catch a prize!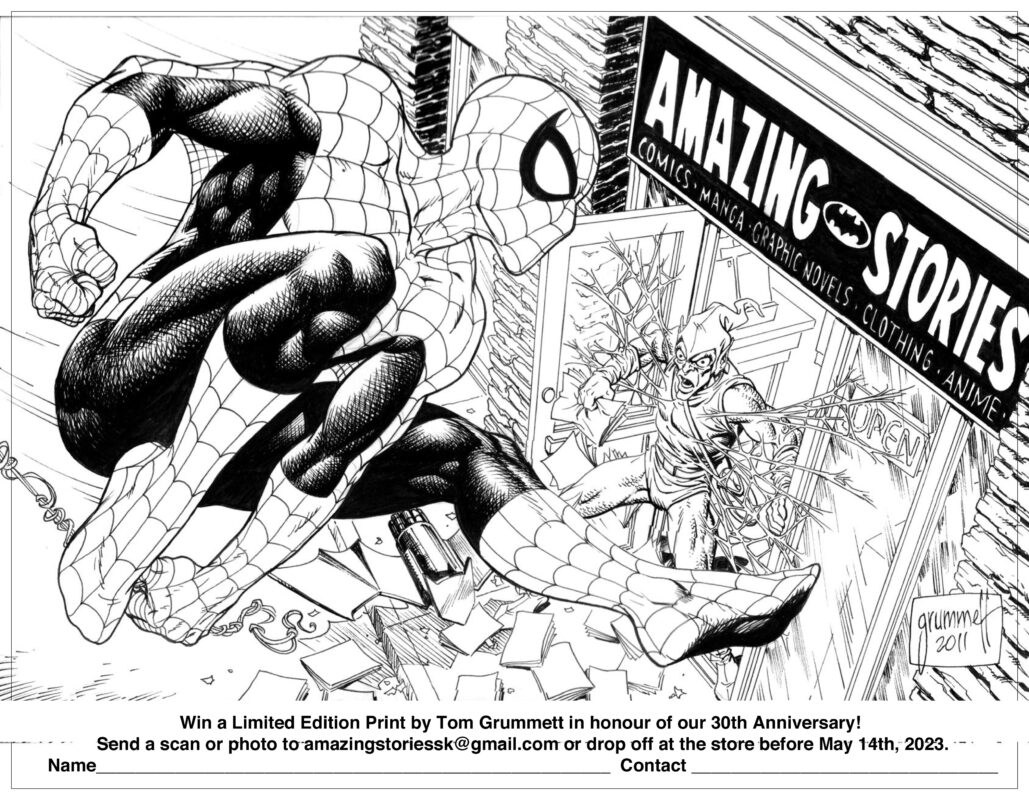 WIN A LIMITED EDITION PRINT BY TOM GRUMMETT
On Saturday we will have a colouring station where you can flex out your artistic skills. One lucky winner will take home a limited edition Tom Grummett print, made especially for our 30th Anniversary. 30 years, 30 prints. This is an extremely low print run and will not be repeated.You can also win one as part of the many prizes we'll be drawing for that day.
A few will also be made available for purchase with all proceeds donated to Foundations Saskatoon.
You can pick up a colouring entry anytime at the store, or copy and print this one and scan or photograph it and send it in to amazingstoriessk@gmail.com before May 14th.
Allt he excitement starts on Saturday, May 6th at 10am, and runs until 4pm (or the comics are all gone!)We hope you'll join us.
This year's Free Comic Book Day promises to be our best one yet! Stay tuned for announcements about special guests, prizes, games, and of course, Free Comics! Did we mention it's also our 30th ANNIVERSARY!!!! Yeah, it's gonna be great.